Deals & Offers
সহজ অ্যাপ বা ওয়েবসাইট থেকে মানিক এক্সপ্রেস-এর নন-এসি বাসের টিকেট কাটলেই পাচ্ছেন ৪সিটে ৪০০ টাকা পর্যন্ত ছাড়।
---
সহজ থেকে ঢাকা- কক্সবাজার-ঢাকা রুটে এম আর পরিবহন বাসের নির্দিষ্ট ট্রিপের টিকেট কিনলেই পাচ্ছেন প্রতি সিটে নিশ্চিত ৪০০ টাকা করে ১৬০০ টাকা পর্যন্ত ছাড়।
---
সহজ অ্যাপ আর ওয়েবসাইট থেকে এভারগ্রিন ট্রান্সপোর্ট-এর ঢাকা-কক্সবাজার রুটের টিকেট কিনলেই পাচ্ছেন সর্বোচ্চ ৪ সিটে ১৬০০ টাকা পর্যন্ত ছাড়!
---
সহজ থেকে নির্দিষ্ট রুটে বুড়িমারী এক্সপ্রেস-এর টিকেট কিনলেই পাচ্ছেন ৪ সিটে সর্বোচ্চ ৮০০ টাকা পর্যন্ত ডিস্কাউন্ট। অফার চলবে ৩১ ডিসেম্বর পর্যন্ত।
---
সহজ অ্যাপ বা ওয়েবসাইট থেকে রয়েল কোচ-এর ঢাকা- কলকাতা রুটের টিকেট কিনলেই পাচ্ছেন নির্দিষ্ট ট্রিপে সর্বোচ্চ ৪ সিটে ১৬০০ টাকা পর্যন্ত ছাড়।
---
সহজ অ্যাপ বা ওয়েবসাইট থেকে রয়েল কোচ-এর ঢাকা- কক্সবাজার রুটের টিকেট কিনলেই পাচ্ছেন নির্দিষ্ট ট্রিপের প্রতি সিটে ৫০০টাকা ছাড়।
---
সহজ অ্যাপ বা ওয়েবসাইট থেকে রয়েল কোচ-এর চট্টগ্রাম- কলকাতা- চট্টগ্রাম রুটের টিকেট কিনলেই পাচ্ছেন নির্দিষ্ট ট্রিপে প্রতি সিটে সর্বোচ্চ ৪০০ টাকা ছাড়।
---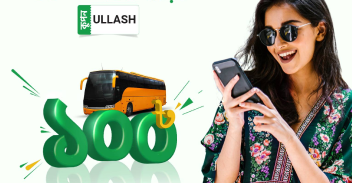 Available Bus Operators
---
Abdullah Paribahan
Agomony Express
Akota Transport
Al-Mobaraka Paribahan
Alhamra Paribahan
Barkat Travels
Chaklader Paribahan
Comfort Line Pvt Ltd
Dhaka Line
Diganta Express
Diganta Paribahan
Dipjol Enterprise
Elish Paribahan
Emad Paribahan(Pvt.)Ltd.
Ena Transport (Pvt) Ltd
Green Line Paribahan
Hanif Enterprise
HIMACHOL
Islam Paribahan
Kanak Paribahan Ltd
M M Paribahan
Manik Express
Nabil Paribahan
New S.B Super Deluxe
Ranga Provat Paribahan Ltd
Relax Transport Ltd.
Royal Coach
Rozina Enterprise
S.B Super Deluxe
S.R Travels (Pvt) Ltd
Sagorika Enterprise
Saintmartin Hyundai (Robi Express)
Saintmartin Paribahan Ltd
Saintmartin Travels
Shahzadpur Travels
Sheba Green Line
Sheba Transport
Shohagh Paribahan
Shoukhin Paribahan
Shuvo Bosundhara Paribahan
Shyamoli Plus Pvt Ltd
Shyamoli SP
Soudia Air Con
Soudia Coach Service
SP Golden Line
Star Line Special Ltd.
Tisha Group
Tuba Line
Tungipara Express
Year-71
Eid Tickets
---
Tickets booked for your journey between 05 Sep 16 and 17 Sep 16 are classified as Eid Tickets.
SMS tickets are not acceptable for Eid Tickets. Please carry a printed ticket while travelling.
Green Line Paribahan tickets are available through Call Centre. Please call: 16374
Buy bus tickets from Shohoz.com Android App & get discount upto Tk. 300 on your first order.
Get discount upto Tk. 150 second order ownards.
To buy your tickets for Eid travel with ease and convenience, you are advised to download the Shohoz - Buy Bus Tickets Android App from Google Playstore.
During Eid travel, bus operators reserve the right to CANCEL / DELAY trips or change BUSES / SEATS due to unavoidable reasons, which is beyond Shohoz.com's control.
Please Note: In case of trip cancellations during Eid, passengers are requested to claim the refund for their tickets from respective bus operators / counters.